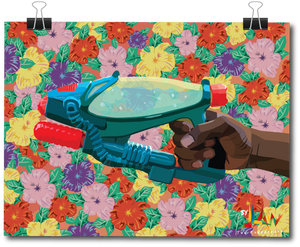 This two part series is what fueled the entire Dear Summer Collection. The juxtaposition of the water gun along with the flowers just shows the resilience and triumph of beautiful Black Culture.
- Available in two sizes: 8" x 10" & 18" x 24"
Digital Print on Epson Enhanced Matte 10.3mil Paper. 18" x 24". Prints are made to order.
Please allow up to 1-2 weeks for your order to be processed and shipped.
Edition of 50. Hand-Signed and numbered.